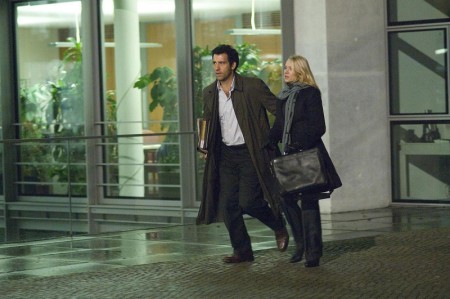 Quest'oggi in una conferenza stampa gli organizzatori della manifestazione hanno comunicato le ultime pellicole che vanno a completare il cartellone della cinquantanovesima edizione del Festival di Berlino.
Nessuna grossa novità o pellicola di grande richiamo, ma comunque ottimi film che si aggiungono al già ricco cartello della manifestazione, qui di seguito le ultime aggiunte:
Categoria film in concorso: My one and only di richard loncraine con la coppia reneè Zellweger/Kevin Bacon
Selezione berlinale special: An education di Lone Scherfig con Carey Mulligan e Dominique Cooper ed il documntario musicale It might get loud di Davis Guggenheim con The edge e Jimmy Page.
Il 5 Febbraio prossimo il festival aprirà i battenti con la proiezione della pellicola fuori concorso The international di Tom Twicker, a rappresentare il film interverrà l'attore Clive Owen, altra pellicola non in competizione proiettata sarà il discusso The reader, che verrà presentato al pubblico del festival dal regista Stephen Daldry e dai due protagonisti Kate Winslet e Ralph Fiennes.
In coda vi mostriamo il programma completo della manifestazione:
In concorso:
About Elly di Asghar Farhadi ( Iran )
Alle Anderen di Maren Ade ( Germania )
Cherì di Stephen Frears ( Gran Bretagna )
Gigante di Adrián Biniez ( Uruguay / Germania / Argentina )
Happy Tears di Mitchell Lichtenstein ( USA )
In the Electric Mist di Bertrand Tavernier ( USA )
Katalin Varga di Peter Strickland ( Ungheria / Gran Bretagna / Romania )
Little Soldier di Annette K. Olesen ( Danimarca )
London River di Rachid Bouchareb ( Gran Bretagna / Francia )
Mammoth di Lukas Moodysson ( Svezia / Danimarca / Germania )
Mei Lanfang di Chen Kaige
My One and Only di Richard Loncraine ( USA )
Rage di Sally Potter ( Gran Bretagna / USA )
Ricky di François Ozon ( Francia / Italia )
Storm di Hans-Christian Schmid ( Germania / Danimarca )
Tatarak di Andrzej Wajda ( Polonia )
The Messenger di Oren Moverman ( USA )
The Milk of Sorrow di Claudia Llosa ( Spagna )
FUORI CONCORSO:
Deutschland 09 di Fatih Akin, Tom Tykwer, Wolfgang Becker, Sylke Enders, Dominik Graf, Romuald Karmakar, Nicolette Krebitz, Isabelle Stever, Hans Steinbichler, Hans Weingartner, Christoph Hochhäusler, Dani Levy e Angela Schanelec ( Germania )
Eden Is West di Costa-Gavras ( Grecia )
La pantera rosa 2 di Harald Zwart ( USA )
La polvere del tempo di Theodoros Angelopoulos ( Italia / Grecia )
Notorious di George Tillman Jr. ( USA )
The International di Tom Tykwer ( USA / Germania / Gran Bretagna )
( "Film d'apertura" )
The Private Lives of Pippa Lee di Rebecca Miller ( USA )
The Reader di Stephen Daldry ( USA )
BERLINALE SPECIAL:
Adam Resurrected di Paul Schrader ( Germania / USA )
An Education di Lone Scherfig ( Gran Bretagna )
Baiyin Diguo di Christina Yao ( Cina / Hong Kong )
Bellamy di Claude Chabrol ( Francia )
Berlin – Ecke Bundesplatz di Hans-Georg Ullrich e Detlef Gumm ( Germania )
Effi Briest di Hermine Huntgeburth ( Germania )
Every Little Step di James D. Stern e Adam Del Deo ( USA )
Food, Inc. di Robert Kenner ( USA )
Hilde di Kai Wessel ( Germania )
In Berlin di Michael Ballhaus e Ciro Cappellari ( Germania )
It Might Get Loud di Davis Guggenheim ( USA )
John Rabe di Florian Gallenberger ( Francia / Cina / Germania )
Pink di Rudolf Thome ( Germania )
Singularidades de uma Rapariga Loira di Manoel de Oliveira ( Portogallo / Spagna / Francia )
Terra Madre di Ermanno Olmi ( Italia )
PANORAMA:
A North Chinese Girl di Zou Peng ( Cina )
El niño pez di Lucía Puenzo ( Argentina / Francia / Spagna )
Fig Trees di John Greyson ( Canada )
Fucking Different Tel Aviv di Yair Hochner, Avital Barak, Stephanie Abramovich, Elad Zakai, Eran Koblik Kedar, Ricardo Rojstaczer, Nir Ne'eman, Hila Ben Baruch, Yossi Brauman, Sivan Levy, Eyal Bromberg, Anat Salomon, Sie Gal, November Wanderin e Yasmin Max ( Israele / Germania )
Ghosted di Monika Treut ( Germania / Taiwan )
High Life di Gary Yates ( USA / Canada )
Human Zoo di Rie Rasmussen ( Francia )
La barbe bleue di Catherine Breillat ( Francia )
La journee de la jupe di Jean-Paul Lilienfeld ( Francia )
Laskar Pelangi di Riri Riza ( Indonesia )
Raging Sun, Raging Sky di Julián Hernández ( Messico )
Retribution di Paulo Pons ( Giappone )
Russia 88 di Pavel Bardin ( Russia )
Rückenwind di Jan Krüger ( Germania )
Sleeping Songs di Andreas Struck ( Germania )
Strella di Koutras H. Panos ( Grecia )
White Lightnin' di Dominic Murphy ( Gran Bretagna )
Yang Yang di Cheng Yu-Chieh ( Taiwan )
PANORAMA SPECIAL:
Absolute Evil di Ulli Lommel ( Germania / USA )
An Englishman in New York di Richard Laxton ( Gran Bretagna )
Ander di Roberto Castón ( Spagna )
Claustrophobia di Ivy Ho ( Hong Kong )
Das Vaterspiel di Michael Glawogger ( Austria / Germania )
Der Knochenmann di Wolfgang Murnberger ( Austria )
End Of Love di Simon Chung ( Hong Kong )
Gururi No Koto di Ryosuke Hashiguchi ( Giappone )
Nord di Rune Denstad Langlo ( Norvegia )
Pedro di Nick Oceano ( USA )
Short Cut to Hollywood di Marcus Mittermeier e Jan Henrik Stahlberg ( Germania )
Sólo quiero caminar di Agustín Díaz Yanes ( Spagna / Messico )
The Countess di Julie Delpy ( USA )
Welcome di Philippe Lioret ( Francia )
PANORAMA DOKUMENTE:
At Stake di Iwan Setiawan, Muhammad Ichsan, Lucky Kuswandi, Ucu Agustin e Ani Ema Susanti ( Indonesia )
City of Borders di Yun Suh ( USA )
Comrade Couture di Marco Wilms ( Germania )
Coyote di Chema Rodríguez ( Spagna )
Garapa di José Padilha ( Brasile )
Home From Home di Cho Sung-Hyung ( Germania )
Kashmir: Journey To Freedom di Udi Aloni ( USA / Israele )
Kiss The Moon di Khalid Gill ( Germania )
Little Joe di Nicole Haeusser ( USA )
Off ways di Uli M. Schueppel ( Germania )
The Good American di Jochen Hick ( Germania )
The Shock Doctrine di Michael Winterbottom ( Gran Bretagna )
The Yes Men Fix the World di Mike Bonanno, Andy Bichlbaum e Kurt Engfehr ( Francia / USA )
Unmistaken Child di Nati Baratz ( Israele )
War And Love In Kabul di Helga Reidemeister ( Germania )
When You're Strange di Tom DiCillo ( USA )
FORUM
A History of Israeli Cinema di Raphaël Nadjari ( Francia / Israele )
( "Special Screening" )
Affectionately Known as Alex di Danny Turken ( Sudafrica )
( "Special Screening – Filmmakers Against Racism" )
Angels on our Shoulders di Andy Spitz ( Sudafrica )
( "Special Screening – Filmmakers Against Racism" )
Araya di Margot Benacerraf ( Venezuela / Francia )
( "Special Screening – Prima mondiale della versione restaurata" )
Beeswax di Andrew Bujalski ( USA )
Burrowing di Fredrik Wenzel e Henrik Hellström ( Svezia )
By Comparison di Harun Farocki ( Germania / Austria )
Calimucho di Eugenie Jansen ( Olanda )
Can Go Through Skin di Esther Rots ( Olanda )
Citizen Juling di Kraisak Choonhavan ( Thailandia )
Clinch di John Cook ( Austria )
( "Special Screening" )
Deep in the Valley di Atsushi Funahashi ( Giappone )
Defamation di Yoav Shamir ( Israele / Austria )
Doctor Ma's Country Clinic di Cong Feng ( Cina )
Encirclement di Richard Brouillette ( Canada )
From Arusha to Arusha di Christophe Gargot ( Francia / Canada / Rwanda )
Green Waters di Mariano De Rosa ( Argentina )
Help Gone Mad di Boris Khlebnikov ( Russia )
Land of Scarecrows di Roh Gyeong-tae ( Corea del Sud / Francia )
Letters to the President di Petr Lom ( Canada / Iran )
Love Exposure di Sion Sono
Marin Blue di Matthew Hysell ( USA )
Material di Thomas Heise ( Germania )
( "Special Screening" )
Members of the Funeral di Baek Seung-Bin ( Corea del Sud )
Mental di Kazuhiro Soda ( Giappone )
Mr. Governor di Måns Månsson ( Svezia / Finlandia )
My Dear Enemy di Lee Yoon-ki ( Corea del Sud )
My Greatest Escape di Fabienne Godet ( Francia )
My Only Sunshine di Reha Erdem ( Turchia / Grecia / Bulgaria )
Naked of Defenses di Masahide Ichii ( Giappone )
Pardon my French di Sophie Fillières ( Francia )
Rachel di Simone Bitton ( Francia / Belgio )
Slow Summer di John Cook ( Austria )
( "Special Screening" )
Sometime in August di Sebastian Schipper ( Germania )
Soul Power di Jeffrey Levy-Hinte ( USA )
( "Special Screening" )
Soundless Wind Chime di Wing Kit Hung ( Hong Kong / Svizzera )
Sweetgrass di Lucien Castaing-Taylor ( USA )
The Beast Stalker di Dante Lam ( Hong Kong )
( "Special Screening" )
The Blessing di Omelga Mthiyane, Riaan Hendriks e Marianne Gysae ( Sudafrica )
( "Special Screening – Filmmakers Against Racism" )
The Blue Generation di Garin Nugroho ( Indonesia )
( "Special Screening" )
The Burning Man di Adze Ugah ( Sudafrica )
( "Special Screening – Filmmakers Against Racism" )
The Day After di Lee Suk-Gyung ( Corea del Sud )
The Exploding Girl di Bradley Rust Gray ( USA )
The Happiest Girl in the World di Radu Jude ( Romania )
The Korean Wedding Chest di Ulrike Ottinger ( Germania )
The Mermaid and the Diver di Mercedes Moncada Rodríguez ( Messico / Nicaragua / Spagna )
The One Man Village di Simon El Habre ( Libano )
The Wondrous World of Laundry di Hans-Christian Schmid ( Germania )
( "Special Screening" )
Treeless Mountain di Yong Kim So ( USA / Corea del Sud )
When It Was Blue di Jennifer Todd Reeves ( USA / Islanda )
( "Special Screening" )
Winter Silence di Sonja Wyss ( Olanda )
GENERATION 14PLUS
Afterschool di Antonio Campos ( USA )
Cherrybomb di Glenn Leyburn e Lisa Barros D'Sa ( Gran Bretagna )
Gun Lala de qiang di Ning Jingwu ( Cina )
I Know You Know di Justin Kerrigan ( Gran Bretagna )
I taket lyser stjärnorna di Lisa Siwe ( Svezia )
Katia's Sister di Mijke de Jong ( Olanda )
Mary and Max di Adam Elliot ( Australia )
Miao Miao di Cheng Hsiao-tse ( Hong Kong / Taiwan )
My Suicide di David Lee Miller ( USA )
Snijeg di Aida Begic ( Bosnia-Herzegovina / Germania / Francia )
Sorasoi di Katsuhito Ishii e Shunichiro Miki ( Giappone )
Teenage Response di Eleni Ampelakiotou ( Germania )
Unmade Beds di Alexis Dos Santos ( Gran Bretagna )
Voy a explotar di Gerardo Naranjo ( Messico )
GENERATION KPLUS
Brendan and the Secret of Kells di Tomm Moore ( Belgio / Irlanda / Francia )
C'est pas moi, je le jure! di Philippe Falardeau ( Canada )
Die Stimme des Adlers di René Bo Hansen ( Svezia / Germania )
Flickan di Fredrik Edfeldt ( Svezia )
Gagma Napiri di George Ovashvili ( Kazakistan / Georgia )
Kdopak by se vlka bál di Mária Procházková ( Repubblica Ceca )
Lippels Traum di Lars Büchel ( Germania )
Los Herederos di Eugenio Polgovsky ( Messico )
Mamma Mu och Kråkan di Igor Veichtaguin ( Germania / Ungheria / Svezia )
Max Pinlig di Lotte Svendsen ( Danimarca )
Mommo di Atalay Taşdiken ( Turchia )
Niloofar di Sabine El Gemayel ( Francia )
The Strength of Water di Armagan Ballantyne ( Nuova Zelanda / Germania )
PERSPEKTIVE DEUTSCHES KINO
Catapult di Peter Dörfler ( Germania )
Distanz di Thomas Sieben ( Germania )
Dorfpunks di Lars Jessen ( Germania )
Fliegen di Piotr J. Lewandowski ( Germania / Germania Est )
Für Miriam di Lars-Gunnar Lotz ( Germania )
Hans im Glück di Claudia Lehmann ( Germania )
Wir sind schon mittendrin di Elmar Szücs ( Germania )
RETROSPECTIVE: 70 MM – A BIGGER THAN LIFE-
2001: Odissea nello spazio di Stanley Kubrick ( Gran Bretagna / USA )
Baraka di Ron Fricke ( USA )
Ben Hur di William Wyler ( USA )
Cleopatra di Joseph L. Mankiewicz ( USA / Gran Bretagna / Svizzera )
Dnevnye zvyozdy di Igor Talankin ( Unione Sovietica )
Flying Clipper – Traumreise unter weissen Segeln di Hermann Leitner e Rudolf Nussgruber ( Germania Ovest )
Gli ammutinati del Bounty di Lewis Milestone ( USA )
Goya – oder Der arge Weg der Erkenntnis di Konrad Wolf ( Germania Est / Unione Sovietica / Bulgaria / Jugoslavia / Polonia )
Hello, Dolly! di Gene Kelly ( USA )
Il grande sentiero di John Ford ( USA )
Karthoum di Basil Dearden ( Gran Bretagna )
La figlia di Ryan di David Lean ( Gran Bretagna )
Lawrence d'Arabia di David Lean ( Gran Bretagna )
Lord Jim di Richard Brooks ( Gran Bretagna / USA )
Natascia – L'incendio di Mosca di Sergei Bondarchuk ( Unione Sovietica )
Optimisticheskaya tragediya di Samson Samsonov ( Unione Sovietica )
Patton di Franklin J. Schaffner ( USA )
Play Time – Tempo di divertimento di Jacques Tati ( Italia / Francia )
Povest plamennykh let di Yuliya Solntseva ( Unione Sovietica )
Tutti insieme appassionatamente di Robert Wise ( USA )
Un giorno… di prima mattina di Robert Wise ( USA )
West Side Story di Robert Wise e Jerome Robbins ( USA )