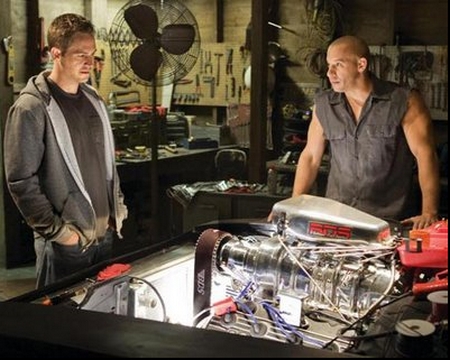 I box office italiani e americani del 17-19 aprile, confermano quelle che erano le previsioni: In Italia trionfa Fast and Furious – Solo parti originiali, negli States vince 17 Again – Ritorno al Liceo.
Partiamo dai risultati di casa nostra: alle spalle del adreanalinico film con Vin Diesel, che incassa la bellezza di 3.878.734 euro (con la media per sala da capogiro di 9.369 euro!), troviamo in seconda posizione il film d'animazione 3D Mostri contro Alieni con 0,93 milioni di euro (quasi 6 totali), in terza la commedia italiana Questione di cuore con 0,73 milioni di euro, in quarta la commedia americana Io & Marley con 0,65 milioni di euro (più di 4 da quando è uscito) e in quinta posizione un'altra new entry, Disastro ad Hollywood, con 0,52 milioni di Euro.
Negli States parte forte 17 Again, presumibilmente grazie alla presenza di Zac Efron nei panni del protagonista. La commedia incassa 24 milioni di dollari (7.393 dollari a sala) e promette bene. Alle sue spalle quattro pellicole sono racchiuse in meno di due milioni di dollari di scarto, tutte sopra i dodici milioni. Al secondo posto con 14 milioni, grazie ad un'ottima media per sala (5.030 $), si piazza il thriller politico State of Play; terzo, con 12,9 milioni di dollari si classifica Mostri contro Alieni (che supera i 162 milioni totali); quarto posto con 12,6 milioni per Hanna Montana: The movie, che pur essendo in discesa ha già superato i 50 milioni spedi (ad ora ha guadagnato 56,1 milioni); quinto posto per Fast and Furoius 4, con 12,2 milioni di dollari e ben 136 totali. Male Crank 2: High Voltage, che supera i 6,5 milioni (sesto), ma con una media a sale inferiore ai 3.000 dollari (ricordiamoci che è vietato ai minori). Assenti dai primi dieci, infine, le altre novità della settimana (tutte limited) e Dragon Ball Evolution, enorme flop.
Vediamo insieme le prime cinque posizioni in Italia e negli States:
Italia 17 – 19 aprile 2009
| | | |
| --- | --- | --- |
| 1 | Fast and Furious – Solo parti originali | € 3.878.734 |
| 2 | Mostri contro Alieni | € 936.878 |
| 3 | Questione di cuore | € 735.055 |
| 4 | Io & Marley | € 658.772 |
| 5 | Disastro a Hollywood | € 526.788 |
USA 17 – 19 aprile 2009
| | | |
| --- | --- | --- |
| 1 | 17 Again – Ritorno al liceo | 24.065.000 $ |
| 2 | State of Play | 14.099.000 $ |
| 3 | Mostri contro alieni | 12.900.000 $ |
| 4 | Hannah Montana: The Movie | 12.666.000 $ |
| 5 | Fast and Furious – Solo parti originali | 12.290.000 $ |