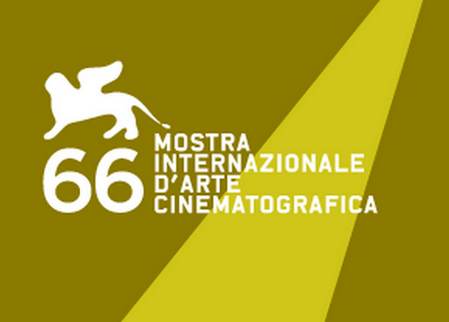 E' stata presentata questa mattina la sessantaseiesima edizione del Festival di Venezia: la mostra, che quest'anno è stata pensata per chi i film li va a vedere si aprirà, il 2 settembre, con l'anteprima mondiale di Baaria di Giuseppe Tornatore e si chiuderà, il 12 dello stesso mese, con Chengdu I Love You di Fruit Chan e Cui Jian.
Tra i 75 film (71 prime mondiali e 4 prime internazionali), in concorso e non, scelti tra i 3859 visionati per partecipare alle quattro sezioni ufficiali, provenienti da venticinque Paesi, ci sono tra gli altri in concorso Capitalism: A love story di Michael Moore, Survival of the Dead di George A. Romero, Bad Lieutenant: Port of Call New Orleans di Werner Herzog, The Road di John Hillcoat, A Single man di Tom Ford (all'esordio come regista), mentre fuori concorso The Men Who Stare at Goats di Grant Heslov, The Hole di Joe Dante, Rec 2 di Jaume Balaguerò e Paco Plaza, The Informant di Steven Soderberg, South of the Border di Oliver Stone e Toy Story 1 e 2 in 3D.
Quattro gli italiani in gara: oltre a Baaria, anche Il Grande sogno di Michele Placido, Lo spazio bianco di Cristina Comencini e La doppia ora di Giuseppe Capotondi. Ricordandovi che un titolo verrà reso noto soltanto a ridosso della manifestazione, vi lascio alla lista completa dei film in programma nella sezione ufficiale.
IN CONCORSO
36 vues du Pic Saint-Loup di Jacques Rivette (Francia/Italia)
A Single Man di Tom Ford (USA)
Accident di Cheang Pou-Soi (Hong Kong)
Baarìa di Giuseppe Tornatore (Italia)
Bad Lieutenant: Port of Call New Orleans di Werner Herzog (USA)
Between Two Worlds di Vimukthi Jayasundara (Sri Lanka)
Capitalism: A Love Story di Michael Moore (USA)
Il grande sogno di Michele Placido (Italia)
La doppia ora di Giuseppe Capotondi (Italia)
Lebanon di Samuel Maoz (Israele)
Life During Wartime di Todd Solondz (USA)
Lo spazio bianco di Francesca Comencini (Italia)
Lourdes di Jessica Hausner (Austria)
Mr. Nobody di Jaco van Dormael (USA)
Persécution di Patrice Chéreau (Francia)
Prince of Tears di Yonfan (Cina/Taiwan/Hong Kong)
Soul Kitchen di Fatih Akin (Germania/Turchia)
Survival of the Dead di George Romero (USA)
Tetsuo – The Bullett Man di Shinya Tsukamoto (Giappone)
The Road di John Hillcoat (USA)
The Traveller di Ahmed Maher (Egitto)
White Material di Claire Denis (Francia)
Women Without Men di Shirin Neshat (Germania)
FUORI CONCORSO
Anni luce di Francesco Maselli (Italia)
Brooklyn's Finest di Antoine Fuqua (USA)
Chengdu, I Love You di Fruit Chan e Cui Jian (Cina)
Delhi 6 di Rakesh Omprakash Mehra (India)
Dev.D di Anurag Kashyap (India)
Gulaal di Anurag Kashyap (India)
L'oro di cuba di Giuliano Montaldo (Italia)
Napoli Napoli Napoli di Abel Ferrara (Italia)
Prove per una tragedia siciliana di Roman Paska e John Turturro (Italia)
Rec 2 di Jaume Balagueró e Paco Plaza (Spagna)
Scheherazade, Tell Me a Story di Yousry Nasrallah (Egitto)
South of the Border di Oliver Stone (USA)
The Hole in 3D di Joe Dante (USA)
The Informant! di Steven Soderbergh (USA)
The Men Who Stare at Goats di Grant Heslov (USA)
Toy Story 3Ddi John Lasseter  (USA)
Toy Story 2 3D di John Lasseter, Ash Brannon e Lee Unkrich (USA)
Valhalla Rising di Nicolas Winding Refn (Danimarca/Gran Bretagna)
Yonayona Pengin di Rintaro (Giappone/Francia)