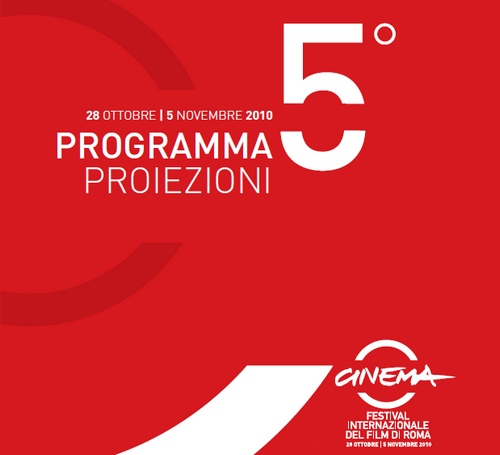 E' stato annunciato il programma del Festival Internazionale del Film di Roma: ai preannunciati Rabbit Hole di John Cameron Mitchell e Last Night di Massy Tadjedin, si sono aggiunti Oranges and Sunshine, Burke and Hare, The Kids Are All Right (con Julianne Moore che ritirerà l'Acting Award), Let Me In, In a better world e Animal Kingdom.
Ancora: ci sarà un evento speciale per The Social Network di David Fincher, 20 minuti in anteprima mondiale di Dylan Dog, una interessante retrospettiva dedicata allo Studio Ghibli (compreso l'atteso The Borrower Arrietty), la proiezione de La dolce vita restaurata, un omaggio ad Ugo Tognazzi e la proiezione del pilot della serie diretta da Martin Scorsese, Boardwalk Empire.
Tre le pellicole italiane in gara: La scuola è finita di Valerio Jalongo, con Valeria Golino; Una vita tranquilla di Claudio Cupellini con Toni Servillo; Io sono con te di Guido Chiesa. Proiezione speciale per Boris – Il film.
Dopo il salto potete trovare il programma completo.
Selezione Ufficiale – in Concorso
Dog Sweat di Hossein Keshavarz
Five Day Shelter di Ger Leonard
Gangor di Italo Spinelli
Golakani Kirkuk / I Fiori di Kirkuk di Fariborz Kamkari
Hævnen / In a Better World di Susanne Bier
Io sono con te di Guido Chiesa
Kill Me Please di Olias Barco
Last Night di Massy Tadjedin
La scuola è finita di Valerio Jalongo
Las buenas hierbas / The Good Herbs di María Novaro
Bei Mian / The Back di Liu Bingjian
Little Sparrows di Yu-Hsiu Camille Chen
Oranges and Sunshine di Jim Loach
Poll / The Poll Diaries di Chris Kraus
Rabbit Hole di John Cameron Mitchell
Una vita tranquilla di Claudio Cupellini
Selezione Ufficiale – Fuori Concorso
Animal Kingdom di David Michôd
Boardwalk Empire di Martin Scorsese
Crime d'amour / Love Crime di Alain Corneau
Il padre e lo straniero di Ricky Tognazzi
Inshite Miru – Nanokakan No Desu Gemu / The Incite Mill: 7 Day Death Game di Hideo Nakata
Karigurashi no Arietty / Arrietty di Hiromasa Yonebayashi
Les Petits mouchoirs di Guillaume Canet
Let Me In di Matt Reeves
L'Homme qui voulait vivre sa vie di Eric Lartigau
The Kids Are All Right di Lisa Cholodenko
We Want Sex di Nigel Cole
Spettacolo|Eventi Speciali
My Name Is Khan di Karan Johar
La scomparsa di Patò di Rocco Mortelliti
Carlos di Olivier Assayas
Le cose che restano di Gianluca Tavarell
Chimères Absentes di Fanny Ardant
Bhutto di Duane Baughman e Johnny O'Hara
Inge Film di Luca Scarzella
Francesco Nuti… e vengo da lontano di Mario Canale
Dylan Dog: Dead of Night di Kevin Munroe, (Anteprima mondiale di 20minuti)
Crisi di classe di Giovanni Pedone
Alice nella città in Concorso
Adem / Oxygen di Hans Van Nuffel
As melhores coisas do mundo / The Best Things in the World di Laís Bodanzky
Herois / Forever Young di Pau Freixas
Hold om mig / Hold me tight di Kaspar Munk
I Want To Be a Soldier di Christian Molina
L'estate di Martino di Massimo Natale
Leila di Audrey Estrougo
Los Colores de la Montaña di Carlos César Arbelaez
Lou di Belinda Chayko
Matching Jack di Nadia Tass
My Brothers di Paul Fraser
Quartier Lointain / A Distant Neighborhood di Sam Garbarski
Tête de Turc di Pascal Elbé
The Runway di Ian Power
Alice nella città Selezione Ufficiale
WINX Club 3D Magica Avventura di di Iginio Straffi
Alice nella città – L'Altro Cinema | Extra
Asse Mediano di Michele Mossa
Un sasso nello stagno di Felice Cappa
Waiting for 'Superman' di Davis Guggenheim
L'ALTRO CINEMA | EXTRA DOCUMENTARI IN CONCORSO
A Mao e a Luva
The Canal Street Madam
Ce n'est qu'un debut / Just a Beginning
Il colore del vento
Diol Kadd. Vita, diari e riprese in un villaggio del Senegal
Facing Genocide: Khieu Samphan and Pol Pot
Mother of Rock: Lillian Roxon
The Promise: The Making of Darkness on the Edge of Town
De Regenmakers / Rainmakers
Vuelve a la Vida / Back to Life
The Woodmans
L'Altro Cinema | Extra – Occhio sul Mondo | Focus
Yoyogi Tadashi to Sono–Jidan / Yoyochu in the Land of the Rising Sex
L'ALTRO CINEMA | EXTRA DOCUMENTARI FUORI CONCORSO
Gasland
Inside Job
The People vs George Lucas
Yves Saint Laurent, l'amour fou
I FILM DELLA RETROSPETTIVA STUDIO GHIBLI
Kaze no Tani no Naushika / Nausicaä of the
Valley of the Wind / Nausicaä della Valle del
vento
di Miyazaki Hayao, Japan, 1984, 116′
Yanagawa Horiwari Monogatari / The Story of
Yanagawa's Canals
di Takahata Isao, Japan, 1987, 165'
Majo no Takkyubin / Kiki's Delivery Service
di Miyazaki Hayao, Japan, 1989, 102′
Omohide Poro Poro / Only Yesterday
di Takahata Isao, Japan, 1991, 118'
Kurenai no Buta / Porco Rosso
di Miyazaki Hayao, Japan, 1992, 94'
Heisei Tanuki Gassen Ponpoko / Pom Poko
di Takahata Isao, Japan, 1994, 118′
Mimi wo Sumaseba / Whisper of the Heart
di Kondo Yoshifumi, Japan, 1995, 111'
Mononoke Hime / Princess Mononoke /
Principessa Mononoke
di Miyazaki Hayao, Japan, 1997, 113'
Sen to Chihiro no Kamikakushi / Spirited Away
/ La città incantata
di Miyazaki Hayao, Japan, 2001, 124'
Otsuka Yasuo no Ugokasu Yorokobi / Yasuo
Otsuka's Joy of Animating
di Uratani Toshiro, Japan, 2004, 107'
Miyazaki Hayao e il Museo D'arte Ghibli
di Takahata Isao, Japan, 2005, 63'
OCCHIO SUL MONDO | FOCUS
Box – Hakamada Jiken Inochi Towa / Box – The
Hakamada Case
Fuwaku no Adagio / Autumn Adagio
Selezione Ufficiale | Fuori Concorso – Occhio sul Mondo | Focus
Inshite Miru – Nanokakan No Desu Gemu
Selezione Ufficiale | Fuori Concorso – Occhio sul Mondo | Focus
Karigurashi no Arietty
Sakuran
Toilet
L'Altro Cinema | Extra – Occhio sul Mondo |
Focus
Yoyogi Tadashi to Sono–Jidan / Yoyochu in the
Land of the Rising Sex
Selezione Ufficiale | Fuori Concorso – Occhio sul Mondo | Focus
Inshite Miru – Nanokakan No Desu Gemu / The
Incite Mill: 7 Day Death Game
di Hideo Nakata, Japan, 2010, 107'
Cast: Tatsuya Fujiwara, Haruka Ayase, Satomi
Ishihara, Tsuyoshi Abe, Aya Hirayama, Masanori
Ishii, Takuro Ohno
Selezione Ufficiale | Fuori Concorso – Occhio sul Mondo | Focus
Karigurashi no Arietty / Arrietty
di Hiromasa Yonebayashi, Japan, 2010, 90'
Sakuran
di Mika Ninagawa, Japan, 2007, 111′
Cast: Anna Tsuchiya, Kippei Shiina, Hiroki
Narimiya, Yoshino Kimura, Miho Kanno
Toilet
di Naoko Ogigami, Japan – Canada, 2010, 109′
Cast: Alex House, Tatiana Maslany, David
Rendall, Masako Motai
L'Altro Cinema | Extra – Occhio sul Mondo | Focus
Yoyogi Tadashi to Sono–Jidan / Yoyochu in the
Land of the Rising Sex
di Masato Ishioka, Giappone, 2010, 115'
L'ALTRO CINEMA | EXTRA LUNGOMETRAGGI FUORI CONCORSO
Ad ogni costo
Burke and Hare
The Freebie
Pete Smalls is Dead
Proie / Prey
Le sentiment de la chair / The Sentiment of the
Flesh
Shimjangii-Thyney / My Heart Beats