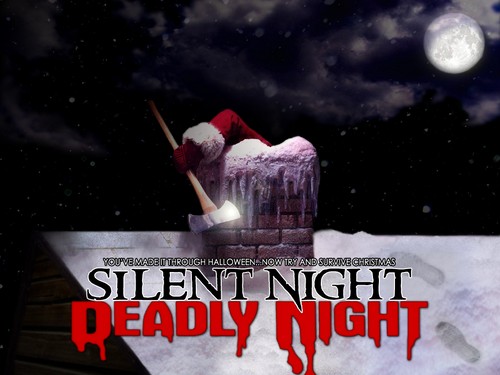 Natale si avvicina e visto che è in arrivo un remake del classico Silent Night, Deadly Night, slasher di culto anni '80 uscito in Italia come Natale di sangue, abbiamo pensato bene di stilare una festosa ed efferata classifica speciale con 10 horror a sfondo natalizio in cui non potevano mancare un'orda di Babbi Natale piuttosto disturbati.
Prima di lasciarvi alla classifica e ai video vi segnaliamo che in coda al post, come sotto a un ideale albero di Natale, trovate tre video extra, tre regalini che abbiamo scelto per voi. Trattasi di un episodio del lungometraggio Tales from the Crypt in cui appare uno dei primissimi maniaci abbigliato come Babbo Natale, il truculento cortometraggio Treevenge che consigliamo esclusivamente a chi ama lo splatter, il corto è diretto da Jason Eisener (Hobo with a shotgun) ed esordisce con le musiche di Cannibal Holocaust (a buon intenditor poche parole) e infine una sequenza tratta da Jack Frost, horror-comedy con protagonista un pupazzo di neve mutante intento a seminar cadaveri durante la settimana che precede il Natale.
1. EVIL CHRISTMAS / YOU BETTER WATCH OUT di Lewis Jackson (1980)
2. GREMLINS di Joe Dante (1984)
3. RARE EXPORTS: A CHRISTMAS TALE di Jalmari Helander (2011)
4. NATALE DI SANGUE / SILENT NIGHT, DEADLY NIGHT di Charles E. Sellier Jr.(1984)
5. BLACK CHRISTMAS – UN NATALE ROSSO SANGUE di Bob Clark (1974)
6. NON APRITE PRIMA DI NATALE / DON'T OPEN TILL CHRISTMAS di Edmund Purdom (1984)
7. SILENT NIGHT BLOODY NIGHT di Theodore Gershuny
8. SANTA'S SLAY di David Steiman (2005)
9. UN MINUTO A MEZZANOTTE di René Manzor (1989)
10. -2: LIVELLO DEL TERRORE (P2) di Alexandre Aja (2007)
BONUS VIDEO 1 – TALES FROM THE CRYPT:  AND ALL TROUGH THE HOUSE  di Freddie Francis (1989)
BONUS VIDEO 2 – CORTOMETRAGGIO TREEVENGE  di Jason Eisener (2008)
!!!ATTENZIONE IL VIDEO A SEGUIRE CONTIENE IMMAGINI CONSIGLIATE AD UN PUBBLICO ADULTO.
BONUS VIDEO 3 – JACK FROST di Michael Cooney (1996)