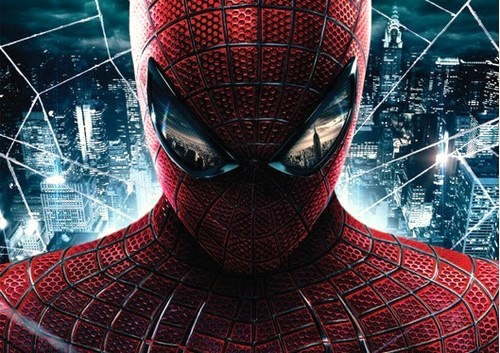 Per lasciarsi alle spalle il giugno nero cinematografico, le sale sono state invase, già da mercoledì, da The Amazing Spider-Man (i risultati fino ad oggi sono più che incoraggianti). Oltre al cinefumetto il primo weekend di luglio propone altri cinque film a contorno: la commedia francese Cena tra amici, quella spagnola Dieta Mediterranea, quella americana Quell'idiota di nostro fratello, il drammatico americano The Way Back e la coprdoduzione franco/tedesca/ungherese Womb.
The Amazing Spider-Man (film fantastico, di Marc Webb, con Andrew Garfield, Emma Stone, Martin Sheen, Rhys Ifans, Sally Field, C. Thomas Howell, Denis Leary, Chris Zylka, Campbell Scott, Annie Parisse): è la storia di Peter Parker (Garfield), un liceale emarginato che è stato abbandonato da piccolo dai genitori e affidato allo zio Ben (Sheen) e alla zia May (Field). Come la maggior parte degli adolescenti, Peter cerca di capire chi è e come è diventato la persona che è adesso. Peter cerca la sua strada insieme alla ragazza per cui si è preso una cotta, Gwen Stacy (Stone), e insieme i due affronteranno l'amore, l'impegno e tanti segreti. Quando Peter scopre una misteriosa valigetta che apparteneva a suo padre, inizia una ricerca per capire il perché della scomparsa dei genitori – e questo lo porta direttamente a Oscorp e al laboratorio del Dr. Curt Connors (Ifans), il vecchio socio del padre. Quando, come Spider-Man, entrerà in rotta di collisione con l'alter ego di Connors, Lizard, Peter sceglie di usare i suoi poteri e diventare un eroe, anche se questo cambierà radicalmente la sua vita. RECENSIONE IN ANTEPRIMA
Cena tra amici (commedia, di Alexandre de La Patellière, Matthieu Delaporte, con Patrick Bruel, Valérie Benguigui, Charles Berling, Guillaume De Tonquedec, Judith El Zein, Françoise Fabian, Yaniss Lespert, Miren Pradier, Alexis Leprise, Juliette Levant, Bernard Murat): Una casa confortevole in un quartiere elegante di Parigi, amici e familiari, un futuro padre, una cena insieme: potrebbe essere la solita tranquilla serata, ma una banale domanda darà l'inizio a un catena di conseguenze inimmaginabili. Vincent (Patrick Bruel) è un quarantenne agente immobiliare di successo che sta per diventare padre per la prima volta. Una sera è invitato a cena a casa della sorella Elizabeth e del cognato Pierre, lei insegnante e lui docente universitario. Lì incontra anche un vecchio amico d'infanzia, Claude, musicista classico che suona in un'orchestra. Mentre aspetta che lo raggiunga la moglie Anna, perennemente in ritardo, Vincent è ovviamente la star della serata e gli altri partecipanti alla cena iniziano a bombardarlo di domande sulla sua prossima paternità. Ma quando gli chiedono che nome ha scelto per il nascituro, il ragionamento col quale Vincent risponde scatena una discussione, che all'inizio cerca di essere garbata e convenzionale, ma che col passare del tempo da l'avvio a una serie di situazioni imbarazzanti e tragicomiche, a equivoci e rivelazioni inaspettate anche sul passato dei convenuti, che di certo non dimenticheranno una cena del genere.
Dieta mediterránea (commedia, di Joaquín Oristrell, con Olivia Molina, Paco León, Alfonso Bassave, Carmen Balagué, Roberto Álvarez, Jesús Castejón, Jordi Martínez, Usun Yoo): Sofia è nata prematuramente da un barbiere nel giugno del 1968, lo stesso giorno in cui è stato assassinato Robert Kennedy. Per 15 anni è stata cresciuta tra le stoviglie e i tavoli del ristorante dei suoi genitori. Gran lavoratrice, ambiziosa e imprevedibile, presto si innamora di due uomini: il primo, Tony, è il genero che ogni madre sognerebbe di avere; lo sposa e ha da lui 3 bambini; del secondo, Frank, l'agente che ogni artista vorrebbe avere, si innamora e con lui scopre i segreti dell'haute cuisine. Insieme raggiungono un accordo professionale ed amoroso che rivoluzionerà l'universo culinario e personale di Sofia.
Quell'idiota di nostro fratello (commedia, di Jesse Peretz, con Paul Rudd, Elizabeth Banks, Zooey Deschanel, Emily Mortimer, Steve Coogan, Nick Sullivan, Francesca Papalia, Bob Stephenson, Peter Hermann, Adam Scott, Kelly Briter, Rashida Jones): Ned (Paul Rudd) è un uomo fuori dal comune, idealista e un po' fuori di testa: pur vedendo sempre il lato positivo della vita non ne combina una giusta e dopo essere uscito di prigione per aver venduto marijuana a un poliziotto, si fa ospitare a turno dalle tre sorelle (Zooey Deschanel, Elizabeth Banks e Emily Mortimer) rovinando loro la vita…o forse no? RECENSIONE IN ANTEPRIMA
The Way Back (drammatico, di Peter Weir, con Dragos Bucur, Colin Farrell, Ed Harris, Alexandru Potocean, Saoirse Ronan, Gustaf Skarsgård, Mark Strong, Jim Sturgess, Zahary Baharov): In un gulag siberiano un giovane tenente dell'esercito polacco (Janusz/Jim Sturgess), accusato di spionaggio e condannato a 25 anni di lavori forzati, organizza l'evasione dal campo insieme a un americano (Mr. Smith/Ed Harris), un attore (Khabarov/Mark Strong), un brutale criminale russo (Valka/Colin Farrell), un polacco che soffre di cecità notturna (Kazik), un sacerdote lettone (Voss), un ragioniere jugoslavo (Zoran) e un ragazzo (Tomasz) che si guadagna da vivere disegnando immagini erotiche in cambio di cibo e vestiti. Vagamente ispirato al libro di memorie di Slawomir Rawicz (di cui si discute la partecipazione ai fatti), scritto da un ghostwriter e pubblicato nel 1956 con il titolo "Tra noi e la libertà", The Way Back racconta la fuga di questi sei improbabili compagni di avventure attraverso alcune delle terre più inospitali del mondo… RECENSIONE IN ANTEPRIMA
Womb (drammatico, di Benedek Fliegauf, con Eva Green, Matt Smith, Lesley Manville, Peter Wight, István Lénárt, Hannah Murray, Natalia Tena, Ella Smith, Wunmi Mosaku, Jennifer Lim): Rebecca e Tommy hanno una tenera storia d'amore infantile. Molti anni dopo si rincontrano e la loro attrazione è più forte che mai. Il fuoco della loro passione è però di breve durata, perché Tommy muore in un incidente. Rebecca, straziata dal dolore e incapace di vivere senza di lui, si rivolge al controverso "Dipartimento di replicazione genetica" per farsi impiantare nell'utero un nuovo Tommy. La vita con il piccolo Tommy è colma di gioie e piccoli miracoli. Nell'isolamento di una piccola località costiera, Rebecca si dedica anima e corpo a questa esistenza "a due". Con il passare degli anni, Rebecca non potrà sfuggire alle complesse implicazioni della sua decisione.