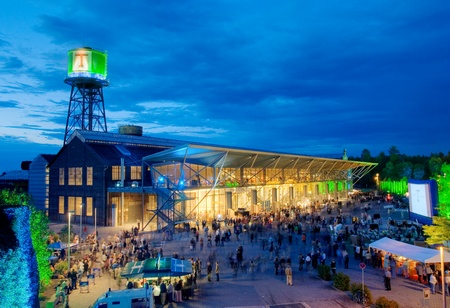 La European Film Academy ha reso noto la lista dei quarantotto film che potranno essere nominati ai prossimi European Film Awards 2009. Tra i film, provenienti da 25 nazioni differenti, ci sono anche tre pellicole italiane: Vincere di Marco Bellocchio, Questione di cuore di Francesca Archibugi e Pranzo di Ferragosto di Gianni Di Gregorio.
Il sette novembre al Sevilla European Film Festival verranno annunciate le nomination, scelte dai 200 membri della EFA,  dei premi che si terranno il 12 dicembre nell'Area Metropolitana della Ruhr in Germania.
Di seguito potete trovare la lista completa dei pretendenti ai riconoscimenti, tra cui Gli abbracci spezzati, Antichrist, La Banda Baader Meinhof, Coco avant Chanel – L'amore prima del mito, Fish Tank, The Reader, The Millionarie e The White Ribbon.
33 SCENY Z ZYCIA
33 SCENES FROM LIFE
Poland / Germany, 96 min
Written & directed by Małgośka Szumowska
Produced by Raimond Goebel & Karl Baumgartner
LOS ABRAZOS ROTOS
BROKEN EMBRACES
Spain, 129 min
Written & directed by: Pedro Almodóvar
Produced by: Agustín Almodóvar
ALLE ANDEREN
EVERYONE ELSE
Germany, 119 min
Written & directed by: Maren Ade
Produced by: Janine Jackowski, Dirk Engelhardt & Maren Ade
ANTICHRIST
Denmark, 104 min
Written & directed by: Lars von Trier
Produced by: Meta Louise Foldager
APAFÖLD
FATHER'S ACRE
Hungary, 79 min
Written & directed by: Viktor Oszkár Nagy
Produced by: Péter Miskolczi
DER BAADER MEINHOF KOMPLEX
THE BAADER MEINHOF COMPLEX
Germany, 149 min
Directed by: Uli Edel
Written & produced by: Bernd Eichinger
BROTHERS
Switzerland, 115 min
Directed by: Igaal Niddam
Written by: Igaal Niddam, David Belhassen & Roy Katsiri
Produced by: Nasser Bakhti
БУМАЖНЫЙ СОЛДАТ (BUMAZHNY SOLDAT)
PAPER SOLDIER
Russia, 118 min
Directed by: Alexey German Jr.
Written by: Alexey German Jr., with the participation of Vladimir Arkusha & Julia Glezarova
Produced by: Artem Vasiliev & Sergey Shumakov
CAMINO
Spain, 143 min
Written & directed by: Javier Fesser
Produced by: Luis Manso & Jaume Roures
COCOAVANT CHANEL
COCO BEFORE CHANEL
France, 110 min
Directed by: Anne Fontaine
Written by: Anne & Camille Fontaine
Produced by: Carole Scotta, Caroline Benjo, Philippe Carcassonne & Simon Arnal
EASTERN PLAYS
Bulgaria, 89 min
Written & directed by: Kamen Kalev
Produced by: Fredrik Zander, Stefan Piriyov & Kamen Kalev
FISH TANK
UK, 124 min
Written & directed by: Andrea Arnold
Produced by: Kees Kasander & Nick Laws
FRYGTELIG LYKKELIG
TERRIBLY HAPPY
Denmark, 99 min
Directed by: Henrik Ruben Genz
Written by: Henrik Ruben Genz & Gry Dunja Jensen
Produced by: Thomas Gammeltoft
HAKOL MATHIL BAYAM
IT ALL BEGINS AT SEA
Israel, 93 min
Written & directed by: Eitan Green
Produced by: Eilon Ratzkovsky, Yossi Uzrad, Yochanan Kredo & Koby Gal-Raday
JERICHOW
Germany, 93 min
Written & directed by: Christian Petzold
Produced by: Florian Koerner von Gustorf & Michael Weber
KALAT HAYAM
JAFFA
France / Israel / Germany, 105 min
Directed by: Keren Yedaya
Written by: Keren Yedaya in collaboration with Illa Ben Porat
Produced by: Jérôme Bleitrach, Emmanuel Agneray, Marek Rozenbaum, Benny Drechsel & Karsten Stöter
KÄSKY
TEARS OF APRIL
Finland / Germany / Greece, 115 min
Directed by: Aku Louhimies
Written by: Jari Olavi Rantala (screenplay), Leena Lander (Novel)
Produced by: Aleksi Bardy, Christoph Thoke, George Charalambides, Christine Ioannou & Nicholas Moutselos
KISSES
Ireland, 74 min
Written & directed by: Lance Daly
Produced by: Macdara Kelleher
DER KNOCHENMANN
THE BONE MAN
Austria, 121 min
Directed by: Wolfgang Murnberger
Written by: Wolf Haas, Josef Hader & Wolfgang Murnberger
Produced by: Danny Krausz & Kurt Stocker
ΚΥΝΟΔΟΝΤΑΣ (KYNODONTAS)
DOGTOOTH
Greece, 96 min
Directed by: Yorgos Lanthimos
Written by: Yorgos Lanthimos & Efthimis Filippou
Produced by: Yorgos Tsourgiannis
LÅT DEN RÄTTE KOMMA IN
LET THE RIGHT ONE IN
Sweden, 114 min
Directed by: Tomas Alfredson
Written by: John Ajvide Lindqvist
Produced by: John Nordling & Carl Molinder
LILLE SOLDAT
LITTLE SOLDIER
Denmark, 97 min
Directed by: Annette K. Olesen
Written by: Kim Fupz Aakeson & Annette K. Olesen
Produced by: Ib Tardini
LOFT
Belgium, 118 min
Directed by: Erik Van Looy
Written by: Bart de Pauw
Produced by: Hilde de Laere
LOOKING FOR ERIC
UK/France, 116 min
Directed by: Ken Loach
Written by: Paul Laverty
Produced by: Rebecca O'Brien
MÄN SOM HATAR KVINNOR
THE GIRL WITH THE DRAGON TATTOO
Sweden, 152 min
Directed by: Niels Arden Oplev
Written by: Rasmus Heisterberg & Nikolaj Arcel
Produced by: Sören Staermose
MARIA LARSSONS EVIGA ÖGONBLICK
EVERLASTING MOMENTS
Denmark / Sweden, 130 min
Directed by: Jan Troell
Written by: Niklas Rådström, co-writers: Jan Troell & Agneta Ulfsäter Troell
Produced by: Thomas Stenderup
MAX MANUS
Norway / Germany / Denmark, 113 min
Directed by: Espen Sandberg & Joachim Rønning
Written by: Thomas Nordseth-Tiller
Produced by: John M. Jacobsen & Sveinung Golimo
NICIJI SIN
NO ONE'S SON
Croatia, 100 min
Directed by: Arsen Anton Ostojic
Written by: Mate Matisic
Produced by: Jozo Patljak
NORD
NORTH
Norway, 79 min
Directed by: Rune Denstad Langlo
Written by: Erlend Loe
Produced by: Sigve Endresen & Brede Hovland
OORLOGSWINTER
WINTER IN WARTIME
The Netherlands, 103 min
Directed by: Martin Koolhoven
Written by: Paul Jan Nelissen, Mieke de Jong & Martin Koolhoven
Produced by: Els Vandevorst & San Fu Maltha
PANDORANIN KUTUSU
PANDORA'S BOX
Turkey / France / Germany / Belgium, 112 min
Directed by: Yeşim Ustaoğlu
Written by: Yeşim Ustaoğlu & Sema Kaygusuz
Produced by: Yeşim Ustaoğlu, Muhammet Çakıral, Serkan Çakarer, Behrooz Hashemian, Setareh Farsi, Natacha Devillers, Catherine Burniaux, Michael Weber & Tobias Pausinger
POLITIST, ADJECTIV
POLICE, ADJECTIVE
Romania, 113 min
Written & directed by: Corneliu Porumboiu
Produced by: Marcela Ursu
PRANZO DI FERRAGOSTO
MID-AUGUST LUNCH
Italy, 75 min
Written & directed by: Gianni di Gregorio
Produced by: Matteo Garrone
UN PROPHETE
A PROPHET
France, 149 min
Directed by: Jacques Audiard
Written by: Jacques Audiard and Thomas Bidegain based on an original idea by Abdel Raouf Dafri after an original screenplay by Abdel Raouf Dafri and Nicolas Peufaillit
Produced by: Chic Filmks, Page 114, Why Not Productions
QUESTIONE DI CUORE
A MATTER OF HEART
Italy, 104 min
Written & directed by: Francesca Archibugi
Produced by: Riccardo Tozzi, Giovanni Stabilini & Marco Chimenz
THE READER
Germany, 122 min
Directed by: Stephen Daldry
Written by: David Hare
Produced by: Anthony Minghella, Sydney Pollack, Donna Gigliotti & Redmond Morris
RETORNO A HANSALA
RETURN TO HANSALA
Spain, 95 min
Directed by: Chus Gutierrez
Written by: Juan Carlos Rubio & Chus Gutierrez
Produced by: Carlos Santurio, Antonio Pérez & Chus Gutierrez
SERAPHINE
France, 125 min
Written & directed by: Martin Provost
Produced by: Miléna Poylo & Gilles Sacuto
SLUMDOG MILLIONAIRE
UK, 90 min
Directed by: Danny Boyle
Written by: Simon Beaufoy
Producer: Christian Colson
ΣΤΡΕΛΛΑ (STRELLA)
Α WOMAN'S WAY – STRELLA
Greece, 113 min
Directed by: Panos H. Koutras
Written by: Panos H. Koutras & Panayiotis Evangelidis
Produced by: Panos H. Koutras
TATARAK
SWEET RUSH
Poland, 84 min
Written & directed by: Andrzej Wajda
Produced by: Michał Kwieciński, Leszek Andrzej Wyszyński & Waldemar Dąbrowski
THE TIME THAT REMAINS
France, 105 min
Written & Directed by: Elia Suleiman
Produced by: Michael Gentile & Elia Suleiman
TOBRUK
Czech Republic, 102 min
Directed by: Václav Marhoul
Written by: Václav Marhoul (based on the Red Badge of Courage by Stephen Crane)
Produced by: Václav Marhoul
TURNEJA
THE TOUR
Serbia / Bosnia & Herzegovina / Croatia / Slovenia, 107 min
Written & directed by: Goran Marković
Produced by:Svetozar Cvetković & Tihomir Stanić
UZAK İHTİMAL
WRONG ROSARY
Turkey, 90 min
Directed by: Mahmut Fazıl Coşkun
Written by: Tarık Tufan, Görkem Yeltan & Bektaş Topaloğlu
Produced by: Ismail Kılıçarslan, Tulin Çetinkol Soyarslan, Tarık Tufan & Mahmut Fazıl Coşkun
VINCERE
Italy, 128 min
Directed by: Marco Bellocchio
Written by: Marco Bellocchio & Daniela Ceselli
Produced by: Mario Gianani
DAS WEISSE BAND – Eine deutsche Kindergeschichte
THE WHITE RIBBON
Germany / Austria / France / Italy, 145 min
Written & directed by: Michael Haneke
Produced by: Stefan Arndt, Veit Heiduschka, Michael Katz, Margaret Menegoz & Andrea Occhipinti
WELCOME
France, 110 min
Directed by: Philippe Lioret
Written by: Philippe Lioret, Olivier Adam & Emmanuel Courcol
Produced by: Christophe Rossignon