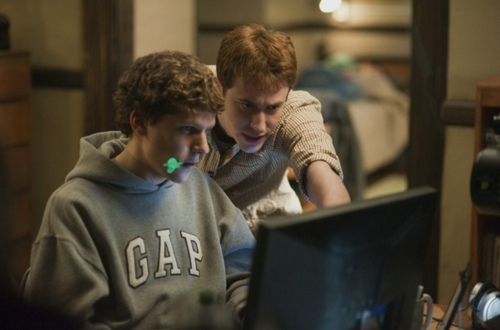 Le associazioni dei critici americani di Los Angeles, New York e Boston hanno annunciato questo weekend i vincitori dei loro rispettivi premi. E' interessante notare, in vista degli Oscar 2011,  come tutti siano concordi nel definire The Social Network il miglior film del 2010, David Fincher il miglior regista dell'anno, la sceneggiatura di The Social Network scritta da Aaron Sorkin, la migliore, e Toy Story 3 il miglior film d'animazione.
Ennesimo riconoscimento per l'italiano Io sono l'amore, reputato miglior film straniero dal New York Film Critics online. A questo punto dispiace pensare che l'Italia non abbia candidato il film di Guadagnino agli Oscar 2011.
Dopo il salto trovate la lista dei vincitori dei tre premi.
Los Angeles Film Critics Association awards
Film: "The Social Network" – Runner-up: "Carlos"
Regista: Olivier Assayas, "Carlos," and David Fincher, "The Social Network" (tie)
Attore: Colin Firth, "The King's Speech" – Runner-up: Edgar Ramirez, "Carlos"
Attrice: Kim Hye-ja, "Mother" – Runner-up: Jennifer Lawrence, "Winter's Bone"
Attore non protagonista: Niels Arestrup, "A Prophet" – Runner-up: Geoffrey Rush, "The King's Speech"
Attrice non protagonista: Jacki Weaver, "Animal Kingdom" – Runner-up: Olivia Williams, "The Ghost Writer"
Sceneggiatura: Aaron Sorkin, "The Social Network" – Runner-up: David Seidler, "The King's Speech"
Film straniero: "Carlos" – Runner-up: "Mother"
Animazione: "Toy Story 3" – Runner-up: "The Illusionist"
Documentario: "Last Train Home" – Runner-up: "Exit Through the Gift Shop"
Fotografia: Matthew Libatique, "Black Swan" – Runner-up: Roger Deakins, "True Grit"
Colonna sonora: Alexandre Desplat, "The Ghost Writer," and Trent Reznor and Atticus Ross, "The Social Network" (tie)
Scenografie: Guy Hendrix Dyas, "Inception" – Runner-up: Eve Stewart, "The King's Speech"
Nuova generazione: Lena Dunham, "Tiny Furniture"
Boston Film Critics Awards:
Film – The Social Network
Attore – Jesse Eisenberg per The Social Network
Attrice – Natalie Portman per Black Swan
Attore non protagonista – Christian Bale per The Fighter
Attrice non protagonista – Juliette Lewis per Conviction
Regista – David Fincher per The Social Network
Sceneggiatura – Aaron Sorkin per The Social Network
Fotografia – Roger Deakins per True Grit
Documentario – Marwencol
Film di animazione – Toy Story 3
Montaggio – Andrew Weisblum per Black Swan
Nuovo regista – Jeff Malmberg per Marwencol
Cast d'insieme – The Fighter
Colonna sonora – Trent Reznor e Atticus Ross per The Social Network
New York Film Critics Online
Film – The Social Network
Attore – James Franco, 127 Hours
Attrice – Natalie Portman, Black Swan
Regista – David Fincher, The Social Network
Attore non protagonista – Christian Bale, The Fighter
Attrice non protagonista – Melissa Leo, The Fighter
Attore emergente – Noomi Rapace, The Millenium Trilogy
Regista emergente – John Wells, The Company Men
Cast d'insieme – The Kids Are All Right
Sceneggiatura – The Social Network, Aaron Sorkin
Documentario – Exit Through the Gift Shop
Film straniero – Io Sono l'Amore
Film di animazione – Toy Story 3
Fotografia – Black Swan, Matthew Libatique
Colonna sonora – Black Swan, Clint Mansell
10 Film dell'anno
127 ore (Fox Searchlight)
Another Year (Sony Pictures Classics)
Cigno Nero – Black Swan (Fox Searchlight)
Blue Valentine (The Weinstein Co.)
The Ghost Writer (Summit)
Inception (Warner Bros.)
The Kids Are All Right (Focus Features)
Il discorso del re (The Weinstein Co.)
Scott Pilgrim vs. the World (Universal)
The Social Network (Sony)